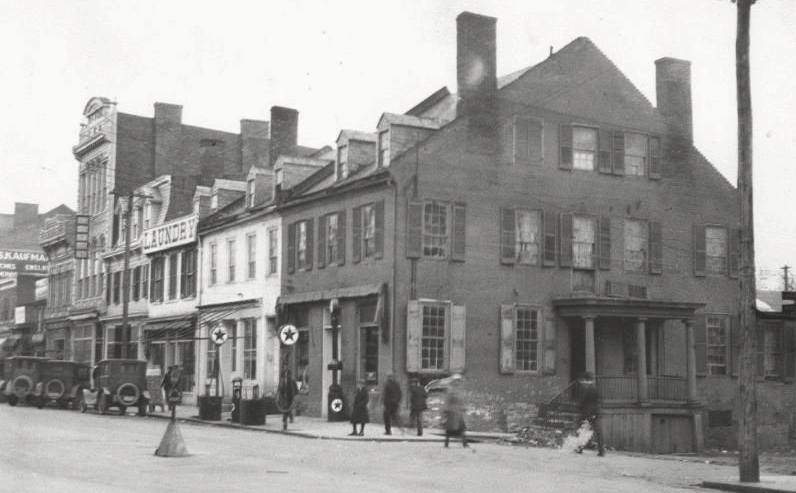 We are honored to be a part of this building's long history and to continue the tradition of providing great food, warm memories, and sense of community for which Sammy T's has always been known.We thank you for joining us and being part of the Sammy T's story.
The building that became Sammy T's was constructed in 1804 and was thereafter purchased by Anthony Buck who operated "Buck's Auction Room." According to an October 1805 Virginia Herald article, "Buck was an auctioneer who handled real estate and probably slaves" here. After the Civil War it became home to the Fredericksburg Post Office until 1921 at which time it became an Amoco Service and fueling Station known as Horton's Auto Supply. In the early 1930's, Dugans restaurant was established in this building and operated until the late 1970s. Dugans became a popular downtown "watering hole" and was frequented by the current owners as well as their ancestors.
 Sammy T's Restaurant began operating in 1981 and since then has become an iconic Fredericksburg downtown restaurant featuring great food in a friendly and fun environment. Sammy T's founding father was Samuel T.Emory, a Geography professor at the University of Mary Washington., at which time it was purchased by a group of retired business persons- to whom downtown Fredericksburg and Sammy T's hold special memories. As children growing up here, several of the new owners spent Saturday mornings with their parents on shopping excursions on Caroline Street which, at the time, was the main commercial and retail center for all of Fredericksburg and its surrounding counties. We hope you appreciate our story, the great history of this building and establishment as well as our great food and beverages, friendly staff, appreciative owners and fun atmosphere. Come and enjoy the unique Sammy T's experience and you'll want to come back time and time again. Cheers!
 Built in 1805, this building served as an auction house and store, known as "Buck's Auction Room". After the Civil War, from 1872 to 1874, Brigadier General Darrel Ruggles, CSA, inventor and designer of railroad equipment, made this his temporary home. Afterwards, the building served as the Fredericksburg Post Office until 1921, when Horton's Auto Supply took up occupancy. A restaurant known as "Dugan's" opened its doors in the 30's, and remained at this location until 1980, when it was purchased by Samuel T. Emory. Dr. Emory, a Geography professor at the University of Mary Washington, opened "Sammy T's" on Valentine's Day, 1981.Sammy T's reopens in February 2017, with the group of six married couples Al and Rena Littek, Ray and Laura Stoner and Frank and Ana Robinson. Together, we strive to bring you the good food, warm memories, and sense of community for which we've always been known.